Thank You To Our Sponsors

Chatham-Kent Economic Development Services
Our mandate is to promote Chatham-Kent as a location for business, industry and tourism destinations. Economic Development Services is uniquely qualified to assist the communities of Chatham-Kent – big and small – to strengthen local economies and business infrastructure.
Contact
Chatham-Kent Economic Development Services
445 Grand Avenue West,
P.O. Box 944
Chatham, Ontario N7M 5L3
Phone: 1.519.351.7700,
Toll free: 1.866.542.5994,
Fax: 1.519.351.7852
Email: investck@chatham-kent.ca

Kent Federation of Agriculture
We represent approximately 2,000 farmers in the Chatham-Kent area and we are continually working to help improve the agriculture industry in our community. We are a group of "Farmers working for Farmers."
Contact
Kent Federation of Agriculture
Ag Business Centre, Ridgetown Campus
University of Guelph,
120 Main St. E.,
Ridgetown, ON N0P 2C0
Phone: 519-674-1500 x 63595,
Toll-Free: 1-866-222-9682,
Fax: 519-674-1512
Email: kfa@uoguelph.ca

FCC is Canada's leading agriculture lender. We live and breathe Canadian agriculture, agribusiness and agri-food. We support, strengthen and celebrate the industry, and we're proud of it. Reporting to Parliament through the Minister of Agriculture and Agri-Food, FCC lends money and provide services to primary producers, agri-food operations and agribusinesses that provide inputs or add value to agriculture.
Contact
Farm Credit Canada
200-405 Riverview Drive
Chatham ON N7M 0N3
Phone: 519-380-8810
Email: onchatham@fcc-fac.ca

Southwest Regional Credit Union Agricultural Services
You work hard for your agricultural business and your banking options need to work just as well for you. Specialized agricultural loans, mortgages, and lines of credit help you get where you want to be. Southwest Regional Credit Union has experienced agricultural business advisors that can recommend flexible banking options suitable for every stage of your business.
Contact
Southwest Regional Credit Union
Wallaceburg Branch
57 McNaughton Avenue
Wallaceburg, ON N8A 1R7
Phone: 519-627-6744
Email: mwinter@southwestcu.com

We are your locally-owned, full-service Agribrands Purina Dealer for Chatham-Kent. We not only provide feed for livestock and pet food for your small animals, we provide solutions. From swine, cattle and equine feed to sheep, poultry, game bird, pet feed and wild bird seed, you can find it all plus more in-store at our on-farm location between Blenheim and Chatham.
Contact
Uher's Performance Feeds
20970 Harwich Rd. RR#7
Blenheim, ON N0P 1A0
Phone: 519-676-2583
Toll Free: 888-873-2469
Email: info@uherfeeds.ca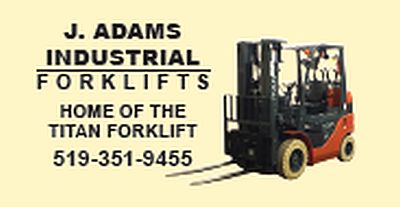 Adams Industrial Forklifts
At Adams industrial Forklifts, we understand that time really is money and forklift breakdowns result in lost revenue. We are committed to the quickest possible turnaround times for service and repair and ensuring that each and every job is done right the first time.
Our mission is to help southwestern Ontario area businesses become more profitable and productive by enhancing the safety and integrity of their supply chain through superior material handling products and services delivered by courteous, knowledgeable experts that are committed to quality, competence and accountability.
Contact
Adams Industrial Forklifts
Phone: 519-351-9455