Golden Acres Peach Company
Ken & Steve Debrouwer
18895 Fargo Rd.
Blenheim, ON N0P 1A0
519-676-4245
kdb@ciaccess.com
August to September
Call first
Sale of canned peaches year long. Sale of fresh clingstone peaches in season.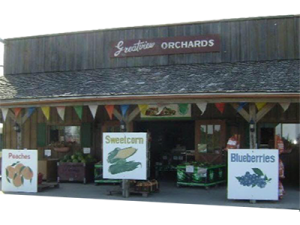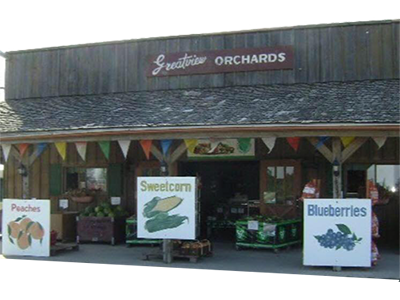 Greatview Orchards & Farm Market
Mike & Cindy Bokor
8677 Talbot Trail
Blenheim, ON N0P 1A0
519-676-5493
cmbokor@ciaccess.com
Mid-May to October 31
Monday – Sunday
Unique farm market featuring quality home-grown, fresh fruits & vegetables, in season, honey, syrups, bread, home-baking and so much more. Debit available. Follow us on Facebook.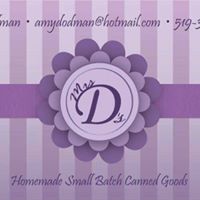 Amy Dodman
10910 Northwood Line,
Kent Bridge, ON N0P1V0
519-365-6098
amydodman@hotmail.com
Year-round
Tuesday – Friday: 9am – 5pm
Saturday: 9am – 3pm
Closed Sunday & Monday
Jams, jellies, pickles and sauces. Family favourites to share with others. Sold and processed at Roesch Meats and more. Low sugar and no sugar added products available.
Bruce & Hope Parks
14815 Longwoods Rd.
Thamesville, ON N0P 2K0
519-692-5373/1-866-901-5373
Fax 519-692-5702
info@parksblueberries.com
Mid-April to December 24
Monday – Sunday:  8am – 6pm
Blueberry season mid-July to late August. Frozen blueberries available year-round. Bakery, café, retail.
Sunshine Asparagus Farms/Sunshine Pickles
John & Claudia & Adrian Jaques
30043 Jane Rd.
Thamesville, ON N0P 2K0
519-692-4416
info@picklesplease.ca
May-June
Monday – Sunday: 9am – 5pm
Year-round
Monday – Friday: 9am – 4:30pm
Weekends by chance or appointment
We offer fresh asparagus during May and June for purchase as well as a variety of pickled products year round.
Jeremy Siddall
7018 Dufferin Ave.
Wallaceburg, ON
519-627-2366
melissa.baldoongolf@hotmail.com
Year-round
Monday – Sunday: 8am – 3pm
Open later for private groups
Sweet corn, fresh vegetables, pumpkins and other fall décor items in season. Handmade baked goods and frozen food in small & large serving sizes. Full service restaurant.